The Venice Symphony is back at the Venice Performing Arts Center in November 2023 for our 50th Anniversary Season
Any questions? Call us at 941-207-8822 or email aposner-solares@thevenicesymphony.org. You can also visit our office at 700 U.S. 41 Bypass North, Suite 4, Venice, FL 34285. Sign up here to receive the latest news, events and special offers from The Venice Symphony.
The Venice Symphony's 2022-23 Concert Season was sponsored by Gulf Coast Community Foundation and the Sarasota County Tourist Development Tax.
PAST CONCERTS
Tchaik Strikes! November 18-19, 2022
The season premieres with a big and bold program. The concert opens with the Overture from Ruslan and Ludmila by Mikhail Glinka, one of the great overtures in opera. The program also features Paul Hindemith's powerful Symphonic Metamorphosis on Themes by Carl Maria von Weber, later adapted by George Balanchine for the ballet Metamorphoses. The final work is Piotr Tchaikovsky's epic Symphony No. 4 in D minor, a very personal symphony and one to be heard live in the concert hall. Concert Sponsor: The Evelyn E. Cerny Charitable Fund of Gulf Coast Community Foundation.
READ OUR CONCERT PROGRAM BOOK FROM TCHAIK STRIKES
A Holiday Season Spectacular December 16-17, 2022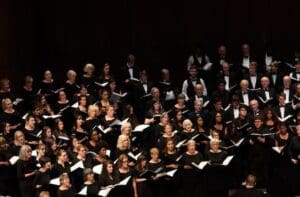 SOLD OUT. Our holiday gift to you is a program of treasured favorites and modern classics. This concert includes classic carols, music from the films A Nightmare Before Christmas and How the Grinch Stole Christmas and timeless works from The Nutcracker Suite and Babes in Toyland. We welcome back Sarasota's Key Chorale, the Suncoast's premiere symphonic chorus and our guest soloist is vocalist Mia Trainor. Concert Sponsor is Bill and Sara Gill
READ OUR CONCERT PROGRAM BOOK FROM A HOLIDAY SEASON SPECTACULAR
Night at the Museum January 6-7, 2023
The Venice Symphony will transport you to your favorite museum with music from Indiana Jones and the Raiders of the Lost Ark, The Mummy, Night at the Museum and The Da Vinci Code. Concertmaster Marcus Ratzenboeck solos on Camille Saint-Saens' Danse Macabre. Then music and art meet in a Venice Symphony premiere, Modest Mussorgsky's ravishing Pictures at an Exhibition, orchestrated by Maurice Ravel. Concert Sponsor: Sean and Esther Kelly
READ OUR CONCERT PROGRAM BOOK FROM NIGHT AT THE MUSEUM
Cinematic Romance February 3-4, 2023
Fall in love all over again with music from Casablanca, Romeo and Juliet and Gone With the Wind. Hailed as "…dazzling, electrifying and compelling," superstar violinist Sandy Cameron will perform Danny Elfman's Edward Scissorhands Suite, The Love Theme from Cinema Paradiso and the Tango from Scent of a Woman. Finally, you will be treated to the Symphony's premiere of Leonard Bernstein's sweeping Symphonic Dances from the enduring classic West Side Story. Concert Sponsor: Dr. Jonathan and Mrs. Sophia Fong
READ OUR CONCERT PROGRAM FROM CINEMATIC ROMANCE
The Movie Maestro: A Tribute to John Williams February 24-25, 2023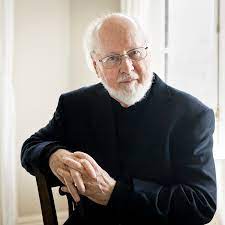 There is no need to travel to a galaxy far, far away to hear unforgettable music by our greatest living composer, John Williams. This concert brings you the music that has inspired and delighted generations of music listeners. The program includes Williams' iconic scores from blockbusters E.T: The Extra Terrestrial, Harry Potter and the Sorcerer's Stone and of course Star Wars, to the lesser known but equally beautiful music from Far and Away and the Oscar-winning film Lincoln. Concert Sponsor: Mr. John Myers.
A Celtic Celebration March 17-18, 2023
Irish eyes will be smiling when you join The Venice Symphony for A Celtic Celebration. Our guest artist is vocalist and harpist Orla Fallon, an original member of the phenomenally popular group Celtic Woman. Highlights include Percy Granger's exuberant Molly on the Shore, music from Riverdance and Symphony No. 3 in F Minor, known as the "Irish," by Charles Villiers Stanford. Concert Sponsor: Ms. Barbara Freeman and Ms. Carole Raymond.
Fairytales and Flutes April 21-22, 2023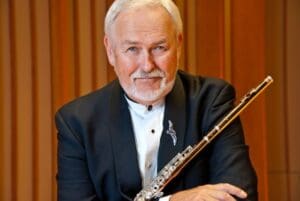 The season finale is your last chance to see The Venice Symphony at the Venice Performing Arts Center this season. This concert features one of the greatest flute players of our time. Jim Walker, former principal flute of the Los Angeles Philharmonic, solos on Mozart's Flute Concerto in G Major, John Williams' The Face of Pan and Mancini's Pennywhistle Jig. William Walton's The Wise Virgins Suite, based on the cantatas of Johann Sebastian Bach, music from Tchaikovsky's Sleeping Beauty and Mendelssohn's A Midsummer Night's Dream round out the concert and our spectacular season. Concert Sponsor: Ms. Lucinda Spaney.