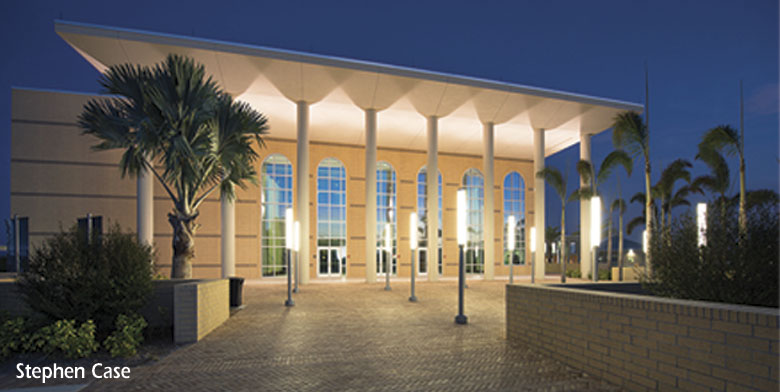 As The Venice Symphony celebrates its 45th "Sapphire" season, we also celebrate a new beginning with our incoming music director/conductor Troy Quinn who will be conducting every concert series this season except Holiday Pops.
This season's dynamic program includes masterworks by Beethoven, Mozart and Mahler, beloved pieces by Shostakovich, Rossini and Mendelssohn, a concert dedicated to the music of George Gershwin and our season finale featuring the greatest American composers.
The spotlight will be on The Venice Symphony's accomplished musicians as they shine as soloists. In January we welcome winner of the Arthur Rubinstein Prize in Piano, Andrew Tyson and in February, Sarasota's own Dr. Joseph Holt.
The Venice Symphony's Concert Season Sponsors are Gulf Coast Community Foundation and Sarasota County Tourist Development Tax Revenues. Season Media Sponsor is WUSF Public Media. For season tickets and packages, call our box office at 941-207-8822. Subscriptions start at $156.
2018-19 VENICE SYMPHONY CONCERT SCHEDULE
Festa Italia!
Fri, Nov. 16 at 7:30 pm
Sat, Nov. 17 at 3:30 pm
Celebrate our Sapphire Season with the joyous Festive Overture, op.96 by Dimitri Shostakovich. You'll be transported to The Eternal City by Respighi's lush Fountains of Rome and Pines of Rome and then to our "Sister City" with Carnival of Venice featuring The Venice Symphony's Aaron Romm on Cornet. Concertmaster Marcus Ratzenboeck solos on Saint-Saens' showpiece Introduction and Rondo Capriccioso, op. 28. Concert Sponsor: Edmund and Elizabeth Campbell Foundation Soloist Sponsor: Bill and Sara Gill
Holiday Pops
Fri, Dec. 14 at 7:30 pm
Sat, Dec. 15 at 3:30 and 7:30 pm
Steven Jarvi, guest conductor from our February "Beethoven to Broadway" concert, will lead the orchestra in this Venice tradition featuring Feliz Navidad, The Festive Sounds of Hanukkah, music from The Nutcracker and much more. Guest vocalist Johanna Fincher will make sure you "Have Yourself a Merry Little Christmas." Bring your family to this treasured seasonal celebration that concludes with our traditional sing-a-long. (Tickets for the Saturday evening performance of Holiday Pops and Rhapsody in Blue are available at a discount if purchased together in our Saturday Evening Pops series). Concert Sponsor: Tarpon Shores Dental Soloist Sponsor: Friends and Family
Strauss, Schumann and Mendelssohn
Fri, Jan. 11 at 7:30 pm
Sat., Jan. 12 at 3:30 pm
What joy to hear Felix Mendelssohn's Nocturne, Wedding March from a Midsummer's Night's Dream performed by a full symphony orchestra. Horns are the focus in Richard Strauss's playful Till Eulenspiegel's Merry Pranks. Romantic composer Robert Schumann's Piano Concerto, Op. 54 features guest soloist, Andrew Tyson, Hailed by the New York Times for "playing with passion and poetry." Concert Sponsor: Ehrhart Family Foundation
Buy Tickets to Strauss, Schumann
Rhapsody in Blue
Fri, Feb. 1 at 7:30 pm
Sat, Feb. 2 at 3:30 and 7:30 pm
From the infectious Girl Crazy Overture, to the rapturous An American in Paris, the Symphony will transport you to George Gershwin's glorious Jazz Age. Sarasota's Dr. Joseph Holt plays piano on I've Got Rhythm and on Gershwin's masterpiece, Rhapsody in Blue. Wear your best blue and help us celebrate our Sapphire Season. (Tickets for the Saturday evening performance of Holiday Pops and Rhapsody in Blue are available at a discount if purchased together in our Saturday Evening Pops series). Concert Sponsor: Dr. Jonathan and Mrs. Sophia Fong
Buy Tickets to Rhapsody in Blue
European Masters
Fri, Feb. 22 at 7:30 pm
Sat, Feb 23 at 3:30 pm
Beethoven's Symphony No. 7 with its enthralling Second Movement Allegretto is the showpiece of this concert that also features Rossini's popular Overture to L'Italiana in Algeri. The spotlight shines on Venice Symphony Principal Cello Scott Crowley, soloist on Saint-Saens' Concerto for Cello No. 1., op. 33. Concert Sponsor: Bill and Sara Gill
Buy Tickets to European Masters
Mozart and Mahler
Fri, March 22 at 7:30 pm
Sat, March 23 at 3:30 pm
Mozart's exhilarating Symphony no. 41, (Jupiter), is the composer's final symphony and considered by many to be among the greatest works in classical music. The second half of the concert is dedicated to Gustav Mahler's Symphony no. 1, D Major (Titan) "One of the most spellbinding moments of symphonic inspiration in the 19th century" – guardian.com 50 Greatest Symphonies. Concert Sponsor: Village on the Isle
Buy Tickets to Mozart and Mahler
American Roots
Fri, April 26 at 7:30 pm
Sat, April 27 at 3:30 pm
We'll be singing The Saint Louis Blues as The Venice Symphony concludes our 45th Season with outstanding works by great American composers, including Duke Ellington, Aaron Copland and John Williams. Concertmaster Marcus Ratzenboeck solos on Ashokan Farewell and Sweet Georgia Brown. Concert Sponsor: Barbara Freeman