THIS PROMOTION HAS ENDED
Spend your Saturday nights with The Venice Symphony and SAVE!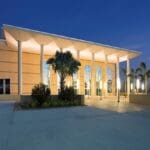 The Venice Symphony will offer a three-concert Saturday Nights at the Symphony Series to A Very Merry Holiday Pops, Cosmic Convergence, and The Music of James Bond. Buy tickets to all three concerts and save 15% off your purchase and pay a reduced online order fee. Can't attend all three concerts? Call us at 941-207-8822 and we can put one of your concerts on a gift card.
A Very Merry Holiday Pops – 7:30 pm, December 21
Join The Venice Symphony for our traditional concert with a holiday twist as we present yuletide classics like Deck the Hall and Carol of the Bells with music from holiday film favorites "Home Alone" and "Polar Express." Of course we'll have our traditional sing-along and some seasonal surprises. We are thrilled to welcome Sarasota's Key Chorale as our special guest.
Cosmic Convergence – 7:30 pm, January 11
The stars will align as you take a cosmic journey with Troy Quinn and The Venice Symphony. You'll hear music from Star Trek and Star Wars and Gustav Holst's Jupiter from The Planets. The concert concludes with Dvorak's beloved New World Symphony. Video images will guide you on this out of this world! concert.
Shaken Not Stirred: The Music of James Bond – 7:30 pm, February 8
Join The Venice Symphony as we shake (not stir) things up with some of the greatest music written for the screen from Oscar-winning composers John Barry, Marvin Hamlisch, Bill Conti and Adele and more. Dress up to pose for a photo with 007 and bring a friend, because this concert shouldn't be "For Your Eyes (and ears) Only."