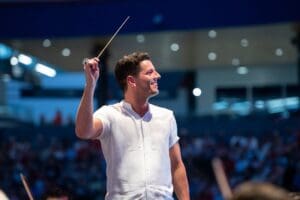 Due to the COVID-19 Crisis, this concert has regretfully been postponed until May 2021. All groups who submitted reservations will be considered priority when we seat groups for the 2021 concert.
Join us at The Venice Symphony's Patriotic Pops on Saturday, May 23, 2020, at 7:30PM at CoolToday Park, the Atlant Braves' spring training facility in West Villages.
Troy Quinn will lead the orchestra in a concert of American classics and patriotic music, a tribute to veteran and more. We are thrilled to welcome back guest soloist SFC. Randy Wight. More than 3,000 people are expected to attend. *Rain date is 7:30 pm, Sunday, May 24.
The following sponsorship opportunities are available. For more information, contact Director of Development, Ashley Light, CFRE at alight@thevenicesymphony.org
If you cannot use all the tickets in the sponsorship package, The Venice Symphony will donate stadium seats in your name to the VFW or American Legion in Venice or a non-profit veterans' organization of your choice.
Presenting Sponsor:
For more information, call 941-207-8822 or email Director of Development Ashley Light, CFRE, at alight@thevenicesymphony.org
If mailing your payment, please send to:
The Venice Symphony
PO Box 1561
Venice, FL 34284