Order Tickets
Call (941) 207-8822 or visit our Box Office at 700 U.S. Highway 41 Bypass North, Suite 4 Venice, FL 34285
Season brochures and order forms have been mailed to our patrons. We encourage subscribers and package holders to respond as soon as possible to retain your seats for the coming season or to request a change of seats.
Our Concert Venue is: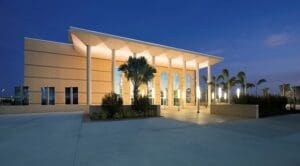 The Venice Performing Arts Center | 1 Indian Ave, Venice
Click here for the VPAC Seating Chart
Tickets for The Venice Symphony concerts are only sold at the VPAC beginning 90 minutes before the start of the concert, otherwise they must by purchased through The Venice Symphony.
Directions and Parking
Click here for directions
Parking is free at the Venice Performing Arts Center. Valet parking is available for $5 at all Venice Symphony concerts.
Concert FAQ
Late Seating Policy
Venice Symphony Orchestra concerts begin promptly at the announced starting time. We recommend arriving 30 minutes prior to the concert start time in order to park and find your seat before the concert begins. If you are unexpectedly delayed, in deference to our artists and the comfort and listening pleasure of the audience, late seating will take place during the first appropriate pause in the program, at the discretion of management. Reserved seats are not guaranteed after the performance starts. Latecomers may be seated in the back of the hall.Certain programs are performed without intermission or without a late seating break before intermission. Patrons who leave the hall before or during a work will not be reseated until after the completion of the work. In fairness to the performers and fellow concertgoers, we ask that you remain in your seat until the concert has concluded.
No food or beverages are allowed in the concert performance hall. Water is available by donation at The Friends of The Venice Symphony information table before the concert and at intermission.