Francisco Diaz was thrilled when his daughter Isabella Diaz took his advice and auditioned for The Venice Symphony last May. She joined the orchestra this season and now father and daughter get to perform on stage together.
"Working with my dad is super because he's just pure fun. Although we usually don't get to sit together, we are always looking at each other to just laugh and enjoy from afar," said Isabella.
Born and raised in Venezuela, Francisco Diaz is an internationally renowned musician and teacher. In his 25 years as an instructor in El Sistema of Venezuela, he taught many talented students including Gustavo Dudamel, now conductor of the Los Angeles Philharmonic. He also served as a coach for the Simón Bolívar Symphony Orchestra, and the National Youth and Children Orchestras of Venezuela, and taught masterclasses throughout Latin America, Europe, Canada and the U.S. "My dad wasn't my regular teacher but he taught me at home sometimes and he still does," she said.
With two parents who played the violin, it's no surprise that Isabella began playing at just four-years-old. She
distinguished herself as a student musician. She was selected for the National Orchestra of Venezuela, and was a member of the Lara Youth Orchestra, where many of the concerts were conducted by Dudamel, her dad's former student. She was Invited to tour and perform in China and Japan and won the scholarship for Young Latin American Musicians awarded by the Latin Grammy Cultural Foundation. Isabella left Venezuela to study at the Longy School of Music in Boston, where she joined the Boston Philharmonic Youth Orchestra, touring and performing prestigious concert halls in more than 10 countries.
Francisco Diaz got his start a bit later. He said that at 7-years-old, "I fell in love with the violin and gave up the piano." He went on to earn a Doctorate and Master's Degree in Violin from the Simón Bolívar University. He has performed extensively as a soloist, orchestra and chamber musician, orchestra coach or guest teacher throughout the Latin America, Europe, Canada and United States. He is Chairman of the Sunstate Orchestral Program-El Sistema in Tampa which is a non-profit dedicated to creating youth orchestras in underserved communities. Isabella is an instructor at the program. Both Isabella and Francisco live in Clearwater. Francisco Diaz said his children Gian and Isaias are also talented musicians.

When the season ends, you can see father and daughter on stage together on April 28 at the Van Wezel Performing Arts Hall at Noche Unidos, a benefit concert for UnidosNow in Sarasota featuring The Venice Symphony and Mariachi Cobre "I'm super excited about the Noche Unidos Concert since this music runs through my veins and it's just so easy to enjoy it that I even want to dance while playing," said Isabella. "It makes me incredibly proud as a Latina sharing stage with Mariachi Cobre for the second time."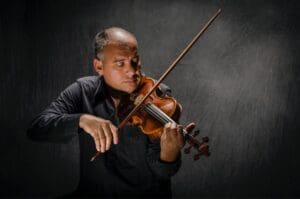 "This event for the community a concert of great importance because it promotes the Hispanic heritage in the United States, exalts the Mariachi genre as Cultural Heritage of Humanity and promotes the union of cultures through music," said Francisco Diaz. "Through this event, The Venice Symphony becomes the most innovative, eclectic and inspiring orchestral ensemble in all of Florida."
Isabella and Francisco Diaz look forward to many more years performing with The Venice Symphony. "I feel very proud to work alongside my daughter in this wonderful orchestra," said Francisco. "I feel that I can share expectations in my role as a father and as a violinist at the same time. There is nothing more important than the family, and the orchestra ends up being a symphonic family in itself."