Friends of the Symphony
The Friends of The Venice Symphony is a dedicated group of volunteers who act as community ambassadors and support and promote the Venice Symphony in many ways. Friends' members organize fundraising events, enjoy socials, volunteer in the office and at concerts and provide support that enhances the Symphony's mission. An annual Friends contribution of $35 for individual membership and $45 for couples is all it takes to get started! Membership runs until May 31, 2022.
To share your special talent and engage with others with a passion for quality music, contact the office at 941-207-8822 or email the Friends at friends@thevenicesymphony.org or to join, click on the application at the bottom of this page.
Office Volunteers | Year-round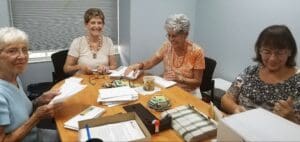 We are always looking for volunteers to help in the office with mailings, filing, data entry and answering phones. We also train volunteers on our ticketing system. There is no minimum amount of hours required.
Concerts and Events
Greet concertgoers, sit at the information table before concerts and/or at intermission, or help at the will call desk. Help organize and staff special events and youth education programs.
Friends Events:
Friends Social and Lunch – Get together in person with your Friends and enjoy lunch provided by The Venice Symphony and the Friends of The Symphony, Friday, September 10, 11:30 am – William H. Jervey, Jr. Venice Public Library, 300 Nokomis Ave. S, Venice, FL. Reservations will be required.
---
2021-22 Friends Officers
Barbara Bierig, President
David Chivas, Vice President Tricia Cook, Secretary
Vacant, Treasurer
2021-22 Friends of The Venice Symphony
Roberta Amero
Cheryl Anderson
Dale and Carolyn Anderson
Peter Bartholomay
Maureen & Joe Bentley
Chris Berry
Barbara Bierig
Paul Bourassa
Jane & Robert Branham
Arthur Brown
Richard and Serena Cannarelli
Edward Campbell
Louise Cashman
Sue Chapman and Robert Brooke
David Chivas and Ron Rice
Georgiana Claeson
Vic and Andrea Colalaro
Elliott & Dana Corn
Katie Couchot
James & Gayle Crane
Phyllis Currier
Marcia Davenport
Norma & Bruce Dayton
Mike & Marty Dolley
Patricia Dunlap
James & Paula Edgar
Jocelyne Favorite
Dreama Fumia
Rosalie Hardman
John Hassell
Rita Hebel
Barbara Hestenes
Paul and Marilyn Hollowell
Patience Johnson
Eugene & Kathleen Jongsma
Angela Kennedy
Mary Kloet
Patricia Knasiak
Susan & Pieter Kohnstam
Elisa Konecny
Deborah Kostroun
Keith Kremkow
Lee & Lisa Lumpkin
Edward Machado & Kathleen Wright
Marcia Major
Jane Marcin
John & Jan Martin
Margaret Massara
Kary Miller
Karen Braun Mohr
Tom & Tommye Morrison
Keith Munroe
Candace Nichols
Martha Norman
Barbara O'Brian
Richard Pastore
Linda Patriarca
Donna Perkins
John & Karen Pestana
Dr. Geraldine Pozzi-Galluzi
Margaret "Maggie" Radke
Howard Reed
Judith Rovins
John & Jacklyn Ruthman
Whitney Sale
Patrick & Sylvia Sanders
Jane Serio
Nathan & Laurie Skjerseth
Nicholas Barber & Elizabeth Shubert
Brian & Ruth Smith
Chuck & Maureen Snyder
W. Russell & Iralyn Snyder
Scott Swenger
Lester Trach
Joan Tramontano
Dr. Steve & Susan Wiener
Lois Willard
Charlotte Zurn & Wayne Morgan
For more information, or to join the Friends, visit us in the lobby during concerts or email friends@thevenicesymphony.org.