Friends of the Symphony
The Friends of The Venice Symphony is a dedicated group of volunteers who act as community ambassadors and support and promote the Venice Symphony in many ways. Friends' members organize fundraising events, enjoy socials, volunteer in the office and at concerts and provide support that enhances the Symphony's mission. An annual Friends contribution of $35 for individual membership and $45 for couples is all it takes to get started! Membership runs until May 31, 2021.
To share your special talent and engage with others with a passion for quality music, contact the office at 941-207-8822 or email the Friends at friends@thevenicesymphony.org or fill out this form and we will send you information and a dues invoice
.
Volunteer to "Play A Part" in The Venice Symphony
Office Volunteers | Year-round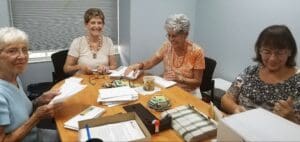 We are always looking for volunteers to help in the office with mailings, filing, data entry and answering phones. We also train volunteers on our ticketing system. There is no minimum amount of hours required.
Concerts and Events
Greet concertgoers, sit at the information table before concerts and/or at intermission, or help at the will call desk. Help organize and staff special events, including our annual Symphony of Games fundraiser for Symphony music education programs. New this year, an adult music education series.
Friends Events:
Dress Rehearsals | Every Thursday at 7 pm, Before Concerts: Friends have the opportunity to observe a Venice Symphony dress rehearsal at The Venice Performing Arts Center and hear the concert before anyone else. You may bring one guest. Attendance is limited and registration is required by emailing slonsdale@thevenicesymphony.org.
Upcoming Friends Events
There are no upcoming events at this time.
Friends Officers
Barbara Bierig, President
David Chivas, Vice President
Georgie Claeson, Treasurer
2019-20 Friends of The Venice Symphony
Mary Lou Airone
Charles & Donna Allman
Roberta Amero
Judith Anderson
Virginia Lee Anderson
Richard & Carolyn Ansted
Don & Darla Anthony
William & Marietheresa Austin
Annette (Marie) Ballou
Betty Belfiore
Maureen & Joe Bentley
Joel & Barbara Bierig
Barry & Marsha Blitzstein
Irene Bozogan
Patricia Bull
Susan & Ron Cairo
Greg & Leslie Calhoun
Ed & Betty Campbell Jr.
Betty Castigliano
Sue Chapman and Robert Brooke
David Chivas and Ron Rice
Anthony & Linda Cipriano
Georgiana Claeson
Philip Cole
Patricia Cook
Elliott & Dana Corn
Phyllis Currier
Judy Dedrickson
Helen Dennis
Hilda Dillman
Michael & Patricia Dunlap
Jayne Etter
Cynthia Fabian
Jocelyne Favorite
Hermine Fell
Karl E Fraedrich
Harry and Trixie Freind
Dreama & Skip Fumia
Anne Hardin
Michael & Bonnie Hartley
John Hassell
Gayle Heskett
Ronald & Joan High
Jeana & David Hilligoss
Barbara Holcroft
Mary Holden
Paul and Marilyn Hollowell
Marjory Hulnick
Suzanne Johnson
Charles & Carol Karakashian
Douglas Kasl
Sara & Curtis Kasten
Edward Machado Kathleen Wright
Clayre Kennedy
Sally Kinney
Patricia Knasiak
Hal & Marianne Knott
Peter & Marlene Koshgarian
Deborah Kostroun
Barbara J Larson
James & Diana Lawson
Pierre And Rose Leblanc
George & Jane Lobien
Fran Lowry
Lee & Lisa Lumpkin
Lennie Macarthur
Patricia Madyda
Janet Mahler
Jane Marcin
Linda & Peter Marion
Laureen Martel
Tina Marquart
Paul McCullough & Lynette Edmonds
Maryann & John Mcdermott
Sue Meadows
John & Pauline Mendez
Jon & Carrie Metzger
Judy & Bill Muller
Keith Munroe
Dennis & Ruthanne Neeser
Janetta & Bert Nicholson
John O'kane
Patricia Orr
Ellen Papetti
Ronald & Mary Anne Parnigoni
Rosalie Peirce
Donna Perkins
Dawn Perreault
Jacqueline Perrone
Jane Phillips
Norman Pokorny
Betty Porrazzo
Dr. Geraldine Pozzi-Galluzi
Barbara & Henry Price
Shelley Pulte
Susan Racca
Margaret Radke
Gayle & John Rector
Dr. Jim & Linda Renz
Steve & Trish Robbins
Garner & Mildred Robinson
Robert & Antoinette Ross
John & Susan Rowles
Donald & Anne Rudy
Alexander & Shirlee Ruggie
Kenneth & Patricia Rule
Vinod and Gail Sahney
Robert Houston
Sandi Chase
Park Showalter & George Ward
Jane Serio
Elaine Sinclair-Fowler
Nathan & Laurie Skjerseth
Bruce & Rosalie Smith
Lucinda Spaney
Matthew Stone
Wayne Strife
Nancy Styles
Margaret & Cy Theobald
Joan Tramontano
Thomas Tyler
Peter & Janet Vaast
Frederick & Claudette Varricchio
Mary Washburn
Eugene Washchuk
Gerald & Cynthia Weber
Margaret Welch
Terry & Sandra Werrell
Jean West-Walker
Lois Willard
Shirley Wise
Duane & Sharon Wohlgemuth
David & Linda Workman
Gale Young
For more information, or to join the Friends, visit us in the lobby during concerts or email friends@thevenicesymphony.org.