Friends of the Symphony
The Friends of The Venice Symphony is a dedicated group of volunteers who act as community ambassadors and support and promote the Venice Symphony in many ways. Friends' members organize fundraising events, enjoy socials, volunteer in the office and at concerts and provide support that enhances the Symphony's mission. An annual Friends contribution of $35 for individual membership and $45 for couples is all it takes to get started! Membership runs until May 31, 2021.
To share your special talent and engage with others with a passion for quality music, contact the office at 941-207-8822 or email the Friends at friends@thevenicesymphony.org or to join, click on the application at the bottom of this page.
Office Volunteers | Year-round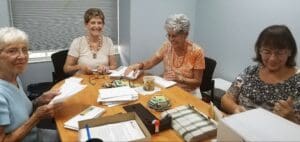 We are always looking for volunteers to help in the office with mailings, filing, data entry and answering phones. We also train volunteers on our ticketing system. There is no minimum amount of hours required.
Concerts and Events
Greet concertgoers, sit at the information table before concerts and/or at intermission, or help at the will call desk. Help organize and staff special events, including our annual Symphony of Games fundraiser for Symphony music education programs. New this year, an adult music education series.
Friends Events:
Dress Rehearsals | Every Thursday at 7 pm, Before Concerts: Friends have the opportunity to observe a Venice Symphony dress rehearsal at The Venice Performing Arts Center and hear the concert before anyone else. You may bring one guest.
Upcoming Friends Events
Due to COVID-19, There are no upcoming events at this time.
---
2020-21 Friends Officers
Barbara Bierig, President
David Chivas, Vice President
Tricia Cook, Secretary
Georgie Claeson, Treasurer
2020-21 Friends of The Venice Symphony
Suzy Altman
Roberta Amero
Anna Andella
Elaine Anderson
Virginia Lee Anderson
Don & Darla Anthony
Jack Baad
Ernest & Judith Bago
Russell & Barbara Bahner
Maureen & Joe Bentley
Myrna Bianco
Joel & Barbara Bierig
Barry & Marsha Blitzstein
Gary & Patricia Boruff
Robert Boynton
Elizabeth Bridge
Arthur Brown
Nan Bushnell
Christine Cairns
Greg & Leslie Calhoun
Paul Campbell
Louise Cashman
Sue Chapman and Robert Brooke
David Chivas and Ron Rice
Georgiana Claeson
Philip Cole
Kenneth Cook
Patricia Cook
Elliott & Dana Corn
Katharine Couchot
James & Eleanor Crawford
Patricia Crisafulli
Phyllis Currier
Marcia Davenport
Maryann Davoli
Maureen Day
Judy Dedrickson
Evelyn Delph & Roger Hilfiker
Grace Desjardin
Tony Karen Dolejs
Gilbert & Carol Drendel
Barbara & Jim Duke
Stephen & Nancy Eibling
Henry & Carol Elwood
Motrecia Estes
Cynthia Fabian
Joseph & Judy Faraldo
Jocelyne Favorite
Sanford Feuer & Bonnie Morley
Robert & Susan Foster
Karl E Fraedrich
Harry and Trixie Freind
Dreama & Skip Fumia
Carla Gabbard
Raymond & Shirley Gaito
Kitty Gamber
Joseph & Marietta Graber
Margaret Hagerman
June Hamer
Stephen Hammond
Lorraine Harrison
John Hassell
Sheila Herman
Barbara Holcroft
Paul and Marilyn Hollowell
Judith Holmes
Robert Holstein
Beatrice Holt
Robert Houston & Sandi Chance
Ed & Diane Huller
Teresa Janis
Suzanne Johnson
Kathleen Kessler
Alicia King Robinson
Sally Kinney
Mary Kloet
Patricia Knasiak
Susan & Pieter Kohnstam
Peter & Marlene Koshgarian
Deborah Kostroun
Fred & Sandra Kreidler
Barbara J. Larson
Viola & William Lawson
Sharon Leber
Susan Ledbetter
John Livingston
Fran Lowry
Edward Machado & Kathleen Wright
John Maddigan
Anthony Madera
Janet Mahler
Jane Marcin
Linda & Peter Marion
Catherine Marshall
Fred & Neale McCarthy
Paul McCullough & Lynette Edmonds
Bryant & Jane Mcniece
John & Carrie Metzger
Frances Mogelnicki
Jan Moore
Tommye Morrison
Grehard & Edith Mueller
Marian Nash
Patricia Orr
Ralph & Loretta Orrico
John & Helen Pape
Ronald & Mary Anne Parnigoni
Linda Patriarca
Donna Perkins
Jacqueline Perrone
Mary Lynn Petkovsek
Dr. Geraldine Pozzi-Galluzi
Barbara & Henry Price
Shelley Pulte
Susan Reiss
Robert & Patricia Reuss
Richard Reynders
Steve & Trish Robbins
Garner & Mildred Robinson
Angela Romano
Robert & Antoinette Ross
Donald & Anne Rudy
Alexander & Shirlee Ruggie
John & Jacklyn Ruthman
Vinod and Gail Sahney
Whitney Sale
Carol Sbabo
Ed Schaeffer
Park Showalter & George Ward
Martin Schulman
Jane Serio
Nathan & Laurie Skjerseth
Dave & Lynn Smith
Robert & Jean Smith
Chuck & Maureen Snyder
Lucinda Spaney
Robert & Carol Speir
Lois Steketee
Dorothy Stellmach
Susan Stewart
Tom & Cynthia Stuhley
Margaret Sullivan
Margaret & Cy Theobald
Joan Tramontano
Charlene Turczyn
Susan Van Wieren
Dirk & Janet Vanoppen
Frederick & Claudette Varricchio
Gerald & Cynthia Weber
Dianne Westfall
Jean West-Walker
Charlotte Whitbread
Steve & Susan Wiener
Lois Willard
Richard & Stephanie Willson
Dr. Harold & Carol Wilson
John Wondrasch
David Wright & Marc Erwin
Charlotte Zurn
For more information, or to join the Friends, visit us in the lobby during concerts or email friends@thevenicesymphony.org.