.
To share your special talent and engage with others with a passion for quality music, contact the office at 941-207-8822 or email the Friends at friends@thevenicesymphony.org.
Office Volunteers | Year-round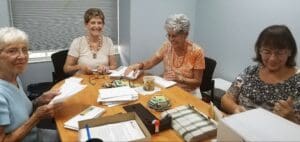 We are always looking for volunteers to help in the office with mailings, filing, data entry and answering phones. We also train volunteers on our ticketing system. There is no minimum amount of hours required.

Concerts and Events
Greet concertgoers, sit at the information table before concerts and/or at intermission, or help at the will call desk. Help organize and staff special events and youth education programs.
Friends Events: List will be updated throughout the season
May 22, 6:30 to 8:30 pm – Abby's on Miami, 220 W. Miami Ave., Venice – Trivia Fundraiser with host Sharyn Lonsdale – Get a team of 2 to 8 together for a fun night of trivia and raising funds for the Symphony, cash prize, gift cards, giveaways, food and drink specials and more. Playing solo? We'll find a team for you. $10 for Friends, $15 for non-members. Reservations Required by calling The Symphony office or emailing slonsdale@thevenicesymphony.org.
2023-24 Friends Officers
Denise Mattmuller, President
Linda Patriarca, Vice President
Joan Tramontano, Treasurer
David Chivas, Secretary and Past President
For more information, or to join the Friends, visit us in the lobby during concerts or email friends@thevenicesymphony.org.