Michael Woods is a new member of our orchestra, coming to us after more than 25 years in the U.S. Air Force and performing with the USAF Academy Band. He lives in St. Petersburgh with his wife, Anna and has two adult daughters who live in Denver, Colorado.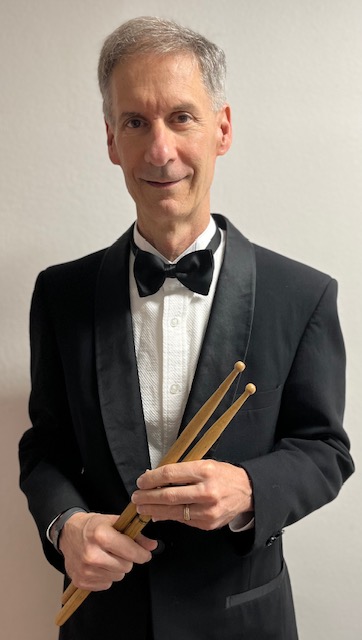 Michael grew up in Cincinnati and picked up the accordion when he was 11 years old. He credits his parents for encouraging him to pursue a career as a professional musician. "They love listening to music and taking me to live concerts," he said. One of those concerts proved life-changing for Michael. "I switched to percussion and drums after watching the great jazz drummer Buddy Rich perform with the Cincinnati Symphony Orchestra." Michael stuck with drums, earning Bachelor's and Master's Degrees in Percussion Performance from the Manhattan School of Music.
Then it was on to the Air Force. "One of my fondest memories performing with the U.S. Air Force Academy Band was during a military deployment to five Middle East countries (Kuwait, Qatar, Turkmenistan, Oman, and Bahrain) in 2009, while supporting operations in Afghanistan and Iraq. We performed 41 shows for 10,000 attendees at embassies, schools, and military bases throughout the region." Michael retired from the Air Force in 2012 and he started teaching music in year 2013 in Colorado Springs and continued to teach music after moving to Florida in 2015, currently at John M. Sexton Elementary School in St. Petersburg, Florida.
"I think percussion is one of the most interesting instruments because of the vast number of things we get to play," said Michael. He is especially looking forward to playing at our next concert, Night at the Museum. "Mussorgsky's Pictures at an Exhibition is one of my favorite orchestral works," he said.