Principal Oboe Amy Collins joined The Venice Symphony in Spring 2018. She also performs with Venice Symphony chamber groups throughout the year. She has served as adjunct Professor of Oboe at The University of South Florida since 2004 and is the founder and director of the USF annual Da' "Bull" Reed Summer Camp. Amy also serves on the faculty at Hillsborough Community College, Florida College, Eckerd College and The Pinellas County Center for the Arts High School.
Amy has a very impressive performance resume. She has played with The New York City Opera Company, Miami City Ballet Company, Joffrey Ballet, Mannheim Steamroller and Cirque de Soleil. She has also shared the stage with Andrea Bocelli, Luciano Pavarotti, Tony Bennett, Diana Ross and Josh Groban to name a few.
People often ask us what our musicians do during the summer. "Pre-COVID I would teach at the Governors School in Tennessee and travel to Europe to teach and perform," said Amy. This summer she taught in Tennessee, attended conferences and enjoyed time with her family. She also performed two world premieres that were commissioned by her group-Amici Musicale in Colorado at the International Double Reed Society.

In her 'spare time" Amy is president and owner of the Stellar Corporation, Inc., dba Stellar Oboe Products that makes and sells more than 300 oboe reeds a month and ships them all over the world. Last season, Amy shared her story and played at a meeting of the Friends of The Venice Symphony.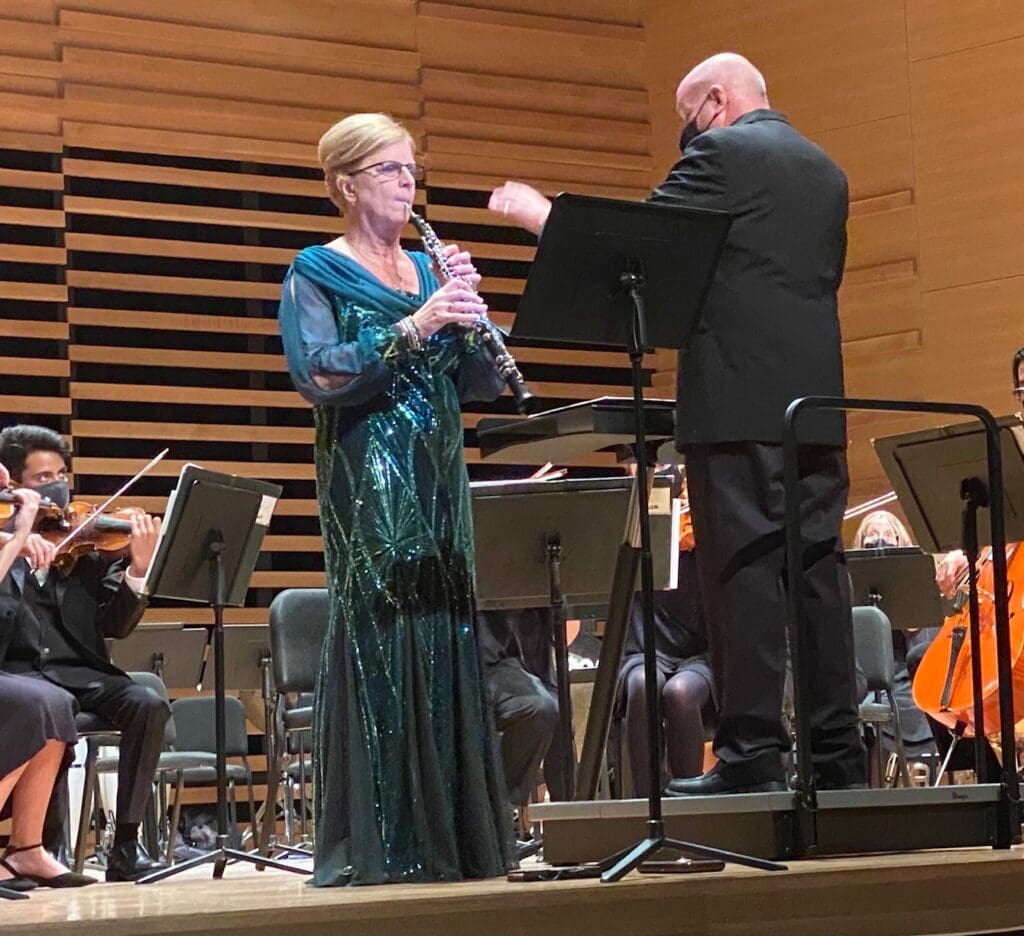 Something you might not know about Amy. In 2007 she performed for Pope Benedict XVI at the Vatican, where she made history as the first instrumentalist to perform in the Basilica of St. Peters since Pope John Paul I. You also might not know that she has been married for 37 years to her husband Kevin, and has three grandsons, age 2, 15 and 16. The older ones are athletes and have no interest in music yet, said Amy, but there's hope for grandson number three.
The concert she is most looking forward to this season, is the Symphony premiere, Tchaik Strikes! in November, specifically Tchaikovsky's Fourth Symphony. "Why you might ask?" said Amy. " Because of its beautiful oboe solos."
Want to learn more about Amy Collins? Visit her website.