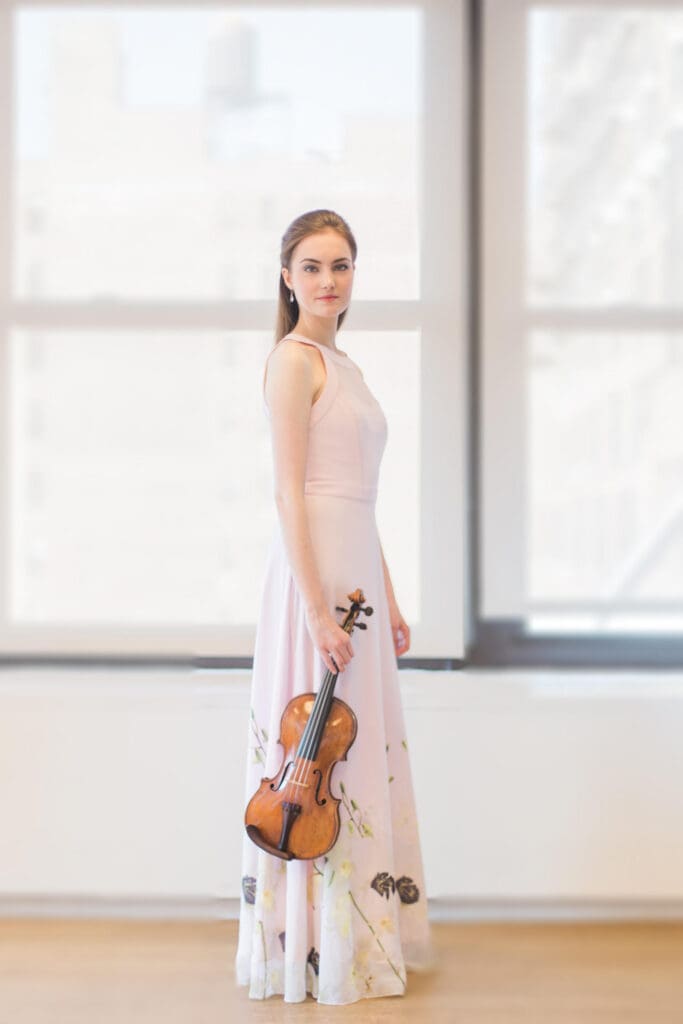 Katherine Gilger is brand new to The Venice Symphony. She lives in Raleigh, NC and graduated from the Mannes School of Music in New York City studying with Met Opera Concertmaster David Chan and acclaimed violinist Aaron Rosand. She currently performs with the North Carolina Symphony and the Atlanta Symphony Orchestra and has played with the Apex Ensemble in Montclair, NJ, The Charleston Symphony and the North Carolina Opera.
Katherine says her trick to playing with several orchestras and balancing everything is staying very organized. "I am meticulous with my practice time, and I always bring my iPad everywhere I go, so even when I am on a plane I can study my parts and the orchestral score. My love of traveling and experiencing different places, people, and music makes the work exciting and fun for me."
When she isn't performing or practicing, you might find Katherine's at the barn, caring for and riding her Gypsy Vanner horse Emzer. An experienced equestrian, Katherine said "I have loved horses my whole life and have ridden since I was three-years-old."
This summer, Katherine performed with the North Carolina Symphony, but also had the chance to travel to Iceland. "I find it to be the most beautiful, unique place I have ever seen. It feels like you are exploring a different planet," she said. "I also appreciate its inspiring beauty and can easily see how so many artists and writers have been influenced by its spectacular scenery. You can see why it's called "the land of fire and ice, with its volcanos, glaciers, icebergs, waterfalls, fjords, geysers, hot springs… etc. I find not only the nature but also the culture and Viking history fascinating, and of course, I also love the Icelandic horses and how the Icelandic people adore their horses. I could go on and on as to why I love Iceland so much."
Katherine is excited about performing in Venice and about taking part in The Symphony's Musician Host Program where she will be paired with a Symphony patron who has offered space in their home for the upcoming season. Does she have a favorite piece this season? "There are so many works to look forward to, especially the opening concert in November with Tchaikovsky's fourth Symphony. What a powerful start to the season!"
Katherine's 1st Violin Section Chair is being sponsored by Edward & Patricia Crary this season. To learn more about Katherine, visit her website.