SPONSOR A CONCERT OR SOLOIST
What better way to show your support of The Venice Symphony than by sponsoring a concert or soloist? These sponsors are recognized on the cover of that concert's program book, posters and other media, receive on stage-recognition, concert tickets and complimentary valet parking. Sponsors also will have the opportunity to meet their soloist. There are only a few sponsorship opportunities remaining.
JOIN THE VENICE SYMPHONY CHAIR SOCIETY
Join other classical music lovers dedicated to supporting The Venice Symphony today and in the future. Visit here for more information and an application.
PATRONS ON PERCUSSION (POPS)
Have you ever wanted to join The Venice Symphony on stage? Now is your chance to play the bass drum on the Star Spangled Banner. Join The Symphony at the concert of your choosing. Our Principal Percussionist will personally coach you and you will be featured in that concert's program book. You will also receive a photo and a very special personalized gift. Don't wait as dates are going fast. Find out more by calling the office at 941-207-8822 or here.
FIND US ON AMAZON SMILE
Did you know that with every purchase you make on Amazon, you could be supporting The Venice Symphony at no cost to you? All you have to do is go to Amazon Smile and search for The Venice Symphony. Choose us and when you order from Amazon, a portion of your purchase price with no added charge, will go to The Symphony.
VOLUNTEER
Volunteers play an important role in the education and fundraising activities of the Symphony. The majority of our volunteers are members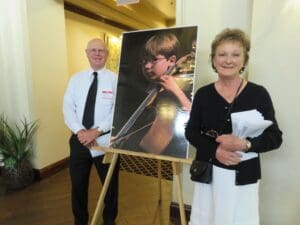 of The Friends of The Symphony. Visit their page to find out more.
For more information on Patrons on Percussion, concert sponsorships and other giving opportunities, call Christine Kasten at 941-207-8822.