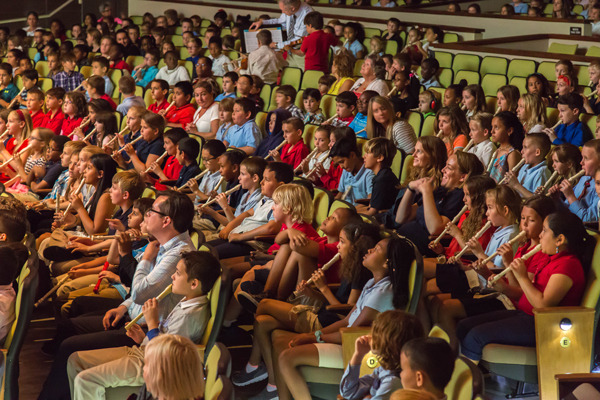 Our Symphony in the Schools brings musicians from the Symphony and an interactive curriculum to third-grade students in participating schools in Sarasota County. The Symphony works with public and charter schools, homeschool groups and with students in special needs classrooms. The Venice Symphony partners with the Carnegie Hall – Weill Music Institute's prestigious "Link Up" education program. For the grand finale of SITS, every third-grader who participated in the program is invited to dress up and board a free bus to The Venice Performing Arts Center for a concert by The Symphony.
Symphony in the Schools is funded by The Venice Symphony, grants, gifts, and fundraising events, and is provided at no cost to Sarasota County or the students. To find out how your school or home-schooled student can participate, email education@thevenicesymphony.org
Symphony in the Schools is generously sponsored by the Edmund and Elizabeth Campbell Foundation, a grant from the State of Florida Culture Builds Florida Division of Arts and Culture, Plantation Community Foundation, Symphony fundraisers and individual donors to The Venice Symphony.